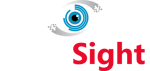 Increase accuracy and confidence with OpenSight AR surgical navigation
Focus on your patient, not a monitor.
OpenSight® from Novarad® is an FDA-cleared augmented reality surgical navigation system that increases surgical accuracy and confidence. Like a surgical GPS, OpenSight enables physicians to find and reach their target destination more quickly.

OpenSight renders 2D, 3D, and 4D digital images from any modality into a highly detailed hologram. Using patented virtual tool technology with an integrated targeting system, the hologram is overlaid directly and accurately onto a patient's body. Overlay virtual annotations for incisions, define pathology and anatomy, and create virtual needle or instrument insertions.
Precision imaging for precision healthcare
Precision prevents errors, reduces operating room times, and improves the patient's experience and outcome. Using optical code alignment, cameras, and sensors, OpenSight maps both the patient and the surrounding environment from above, to the side, behind, or even underneath the patient. OpenSight significantly improves a physician's understanding of their patient and allows them to:
Make more precise incisions. Visualize internal anatomy from cross-sectional imaging superimposed on a patient prior to surgery.
Navigate with knowledge. Mark the appropriate entrance point or angle, trajectory, and location for endoscope or needle placement, extract a foreign body, or place a pedicle screw.
Virtually annotate structures. Colorize target organs as well as outline or annotate pathology to create semitransparent holograms of targeted anatomy.
Patient engagement. Patients and their loved ones can view the annotated holographic images to better understand their procedure and feel more confident in their physician.
Teach with confidence. Multiple headsets can be shared among members of clinical teams, improving training and collaboration.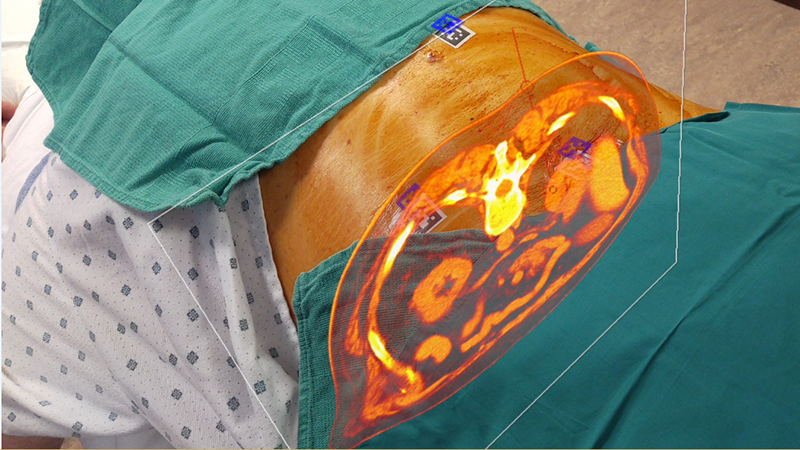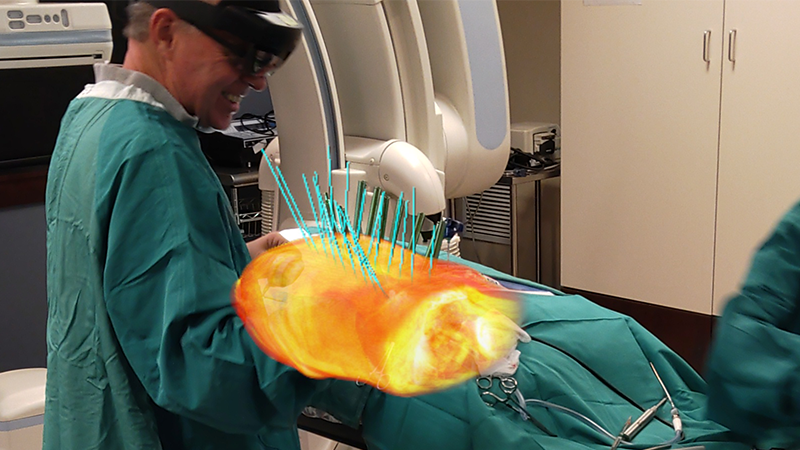 The HoloLens 2 system offers a larger field of vision, higher resolution, greater control and interaction with holograms, and more natural gestures.
The OpenSight system significantly improves my precision in the operating room. Specifically, it allows me to determine exactly where to place my incision thereby allowing me to keep the incision small — minimizing pain and improving overall cosmesis — and also shortens my operative time by allowing me to expose the surgical target more precisely and quickly. Dr. Babak Sarani, Director of Trauma and Acute Care Surgery, George Washington University Hospital
Ease of use
Click a series
Drop a tool
Print a code
Look at patient
Begin procedure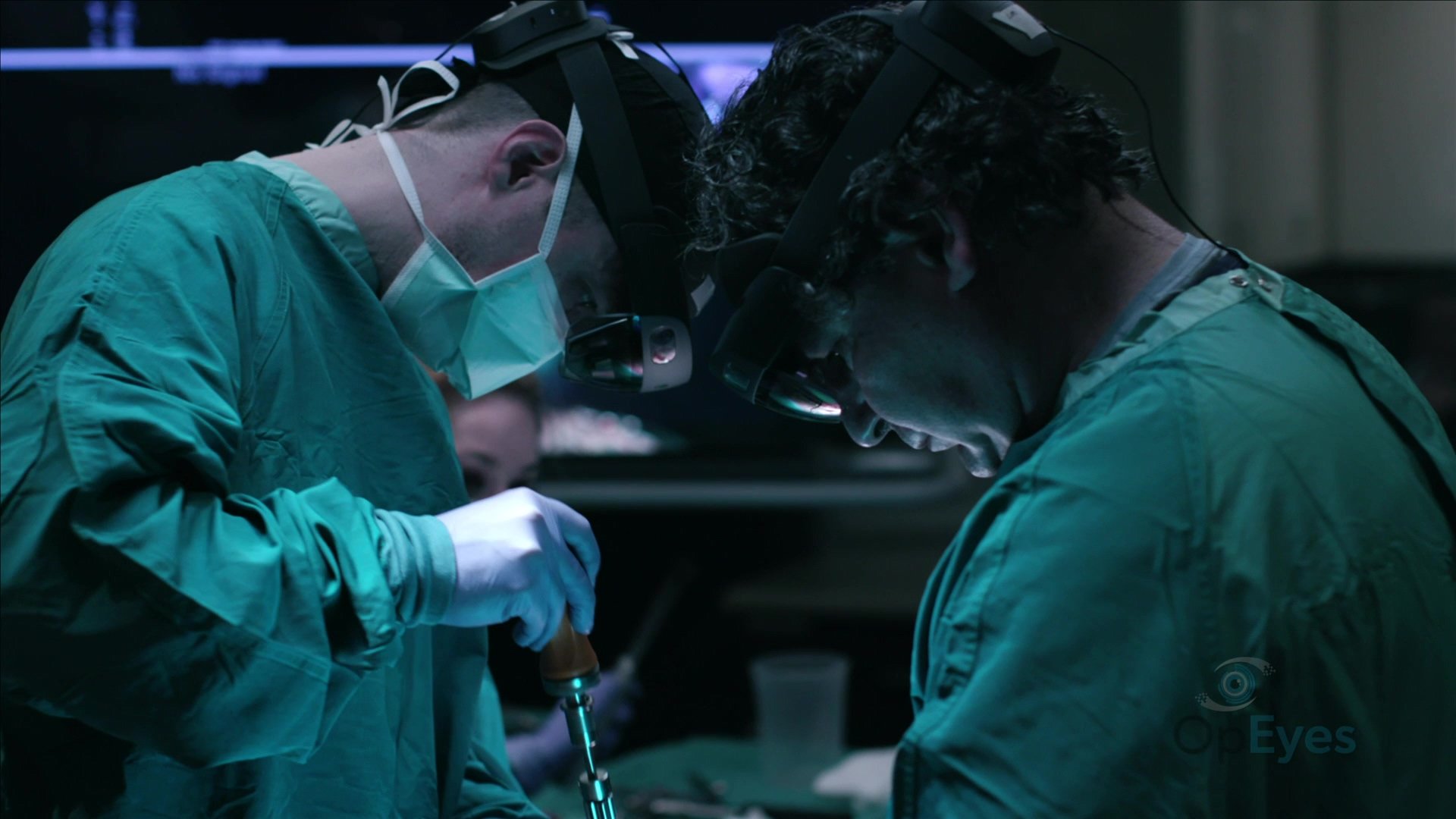 Optical system
See-through holographic lenses
Depth camera 1-MP TOF
Two K 3:2 light engines
12 MP photo / HD video camera
Automatic pupillary distance calibration
Mixed reality capture: 8-MP stills
Holographic resolution: 2.3M total light points
Five-microphone array
Holographic Density: >2.5k radiants (light points per radian)
Ambient light sensor
52-degree field of view, with 47 pixels per degree
Two eye-tracking IR cameras
Four environment-understanding cameras

The OpenSight system allows a physician to conduct complex surgical procedures in the most minimally invasive manner. This is a real breakthrough. This is how surgery will be performed in the future. Dr. Gary Onik, Interventional Oncologist
OpenSight leads the market
First AR surgical system using Microsoft HoloLens to receive FDA clearance
Advanced 2D/3D/4D rendering without tethering
AI-enhanced advanced 3D image segmentation
Patented or patent-pending innovations
Optical Tag Registration
Surface Shell Registration
Virtual tools for incision, markers, needles, trocars, and more
Viewing images in a virtual spatial difference box
Optical encoding of login, password, and image retrieval
Virtual Annotations Patented optical tag registration system
Anatomic labeling, pathologic markup
Dynamic virtual targeting system for tracking lesions and trocar placement
Enterprise Imaging, HIPAA logging, LDAP logins, data encryption, auto-routing
As one of the earliest companies in this field, Novarad has an extensive intellectual property portfolio that prevents other vendors from using key AR functionality in their products.
Aligning Image Data of a Patient with Actual Views of the Patient Using an Optical Code Affixed to the Patient
Augmented Reality Viewing and Tagging for Medical Procedures
Augmenting Real-Time Views of a Patient with Three Dimensional Data
Patent # 9,892,564

Patent # 10,475,244

Patent # 11,004,271
Patents Pending
Using Optical Codes with Augmented Reality Displays

Calibration for Augmented Reality

Secure Access to Stored Data Files Using Tokens Encoded in Optical Codes

Alignment of Medical Images in Augmented Reality Displays

And much more pending