Transform the way your hospital captures, stores, views, exchanges, and analyzes patient images, multi-media, and other data.
Achieve care excellence with an integrated patient record.
Physicians need fast and easy access to patient information. Novarad's PACS with Enterprise Imaging presents a more complete view of a patient, presenting images and reports from any department in the hospital in a storyboard format. NovaPACS EI enables physicians to assess changes over time, collaborate with colleagues, better engage their patients, and more. With NovaPACS EI, physicians can provide faster, more accurate diagnoses and treatment plans that result in better outcomes.
Novarad's PACS with Enterprise Imaging provides the viewer and management for all medical images. These include those created in Radiology and Cardiology, but also all the visible light images captured throughout the rest of the hospital.
The viewer manages all modality images as well as non-DICOM images. These include:
Radiologic Imaging
Cardiac Imaging
Breast Imaging
Orthopedic Imaging
Wound Care Imaging
Nursing Imaging
ED Imaging
Labs
Image and Patient Information Sharing
Other non-DICOM Imaging
Sample Ophthalmology Patient Storyboard
Specialists can collaborate to effectively treat patients with multi-system diseases, like diabetic eye.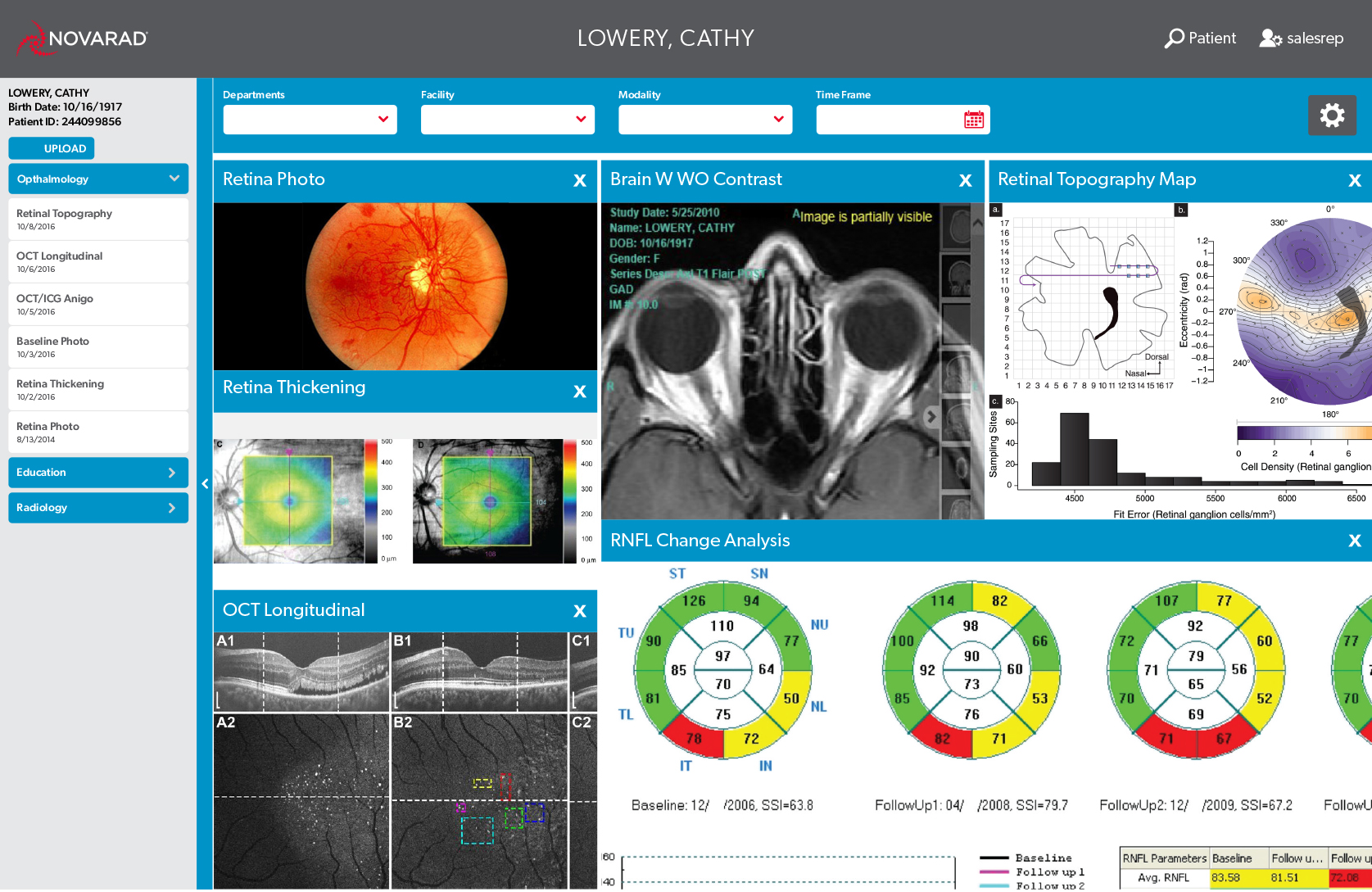 Breast Cancer Patient Storyboard
Having an integrated picture of a patient improves education, tumor board collaboration, and patient engagement.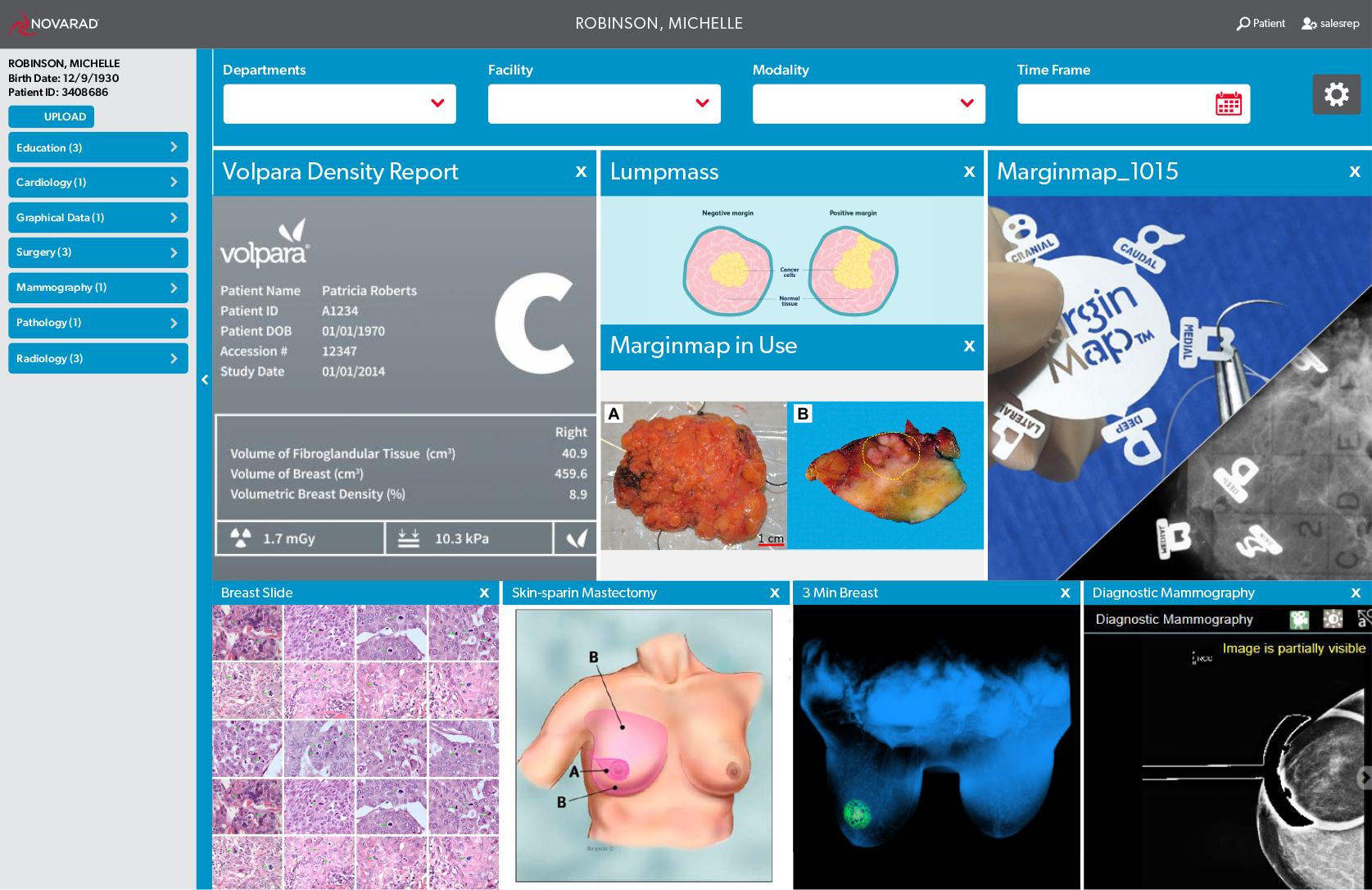 Reduce inefficiencies and costs by centralizing imaging
With NovaPACS with Enterprise Imaging, storage for every department can be centralized and simplified, reducing unnecessary hardware costs. Automation eliminates manual tasks such as printing and scanning images into the EMR. And, most importantly, images become easily and quickly accessible to physicians, nurses, and other clinicians when they need them.
Manage risk, ensure compliance
Medical images captured on mobile devices may not be HIPAA compliant and are often stored in ways that make them inaccessible to the EMR. With NovaPACS with Enterprise Imaging, images are easily and securely captured, stored, and retrieved from a central repository, without the risk of leaving personal health information (PHI) behind on devices.
Maximize revenue
Mobile devices are transforming healthcare. NovaPACS with Enterprise Imaging leverages Novarad's secure mobile computing products - web-based and mobile viewing capabilities, image sharing, text alerts, eForms and more - to provide instant communications and information sharing, enabling healthcare providers to be highly productive regardless of their location.
Enable secure, instant communication
NovaPACS with Enterprise Imaging supports a more team-oriented approach to responsibly sharing patient data, reducing duplication of services, and enabling evidence-based, properly coded, and documented patient information to receive maximum compensation.
Novarad's Enterprise Imaging System Interfaces with any EMR or HIS
NovaPACS EI, Novarad's enterprise imaging solution, can be customized to meet your organization's unique needs. To build the foundation of your enterprise system, start with the core components, focusing on radiology, cardiology, and orthopedics. Then, as your needs require and resources allow, include additional departments like Wound Care, Pathology, Emergency, Nursing, Dermatology, Gastrointestinal, Ophthalmology, and Pulmonology.
Novarad's PACS with Enterprise Imaging comes with many great features, including...
Universal Archive and Viewer

Secure image capture with Snapview

Radiology Workflow Module

eForms

EKG Viewing

HL7 and URL link to EMR
Novarad also offers several complementary products for NovaPACS EI that can be purchased separately.
Specialty viewers for radiology, cardiology, mammography, pathology, orthopedic, and neurologic imaging

Cardiology EKG Module

Text alerts with AlertView

Secure information sharing with CryptoChart
Proven reliability and ease of use
With the highest standards of uptime and reliability, NovaPACS EI ensures dependable, consistent operations. Transitioning from a traditional PACS to a solid enterprise imaging strategy doesn't happen overnight, and it doesn't look the same for each hospital. Our experienced professionals can help you build and support the solution that ensures your long-term success.
Unmatched reliability with 99.99% uptime

Easy to learn with a user-friendly, Windows-based interface

Backed by highly-rated, US-based support and implementation

Product updates and disaster recovery included