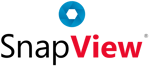 Transfer images from mobile devices without leaving behind PHI, making image capture faster and safer.
SnapView is the secure mobile app for HIPAA-compliant image capture on the go.
Healthcare providers are embracing the value of visible light images because of the obvious medical value and because image capture has become second nature due to social media and the proliferation of camera-equipped smart devices. The challenge is that methodologies to store, organize, and secure these images have not evolved at the same pace as the capture technologies.
Integrating non-DICOM images into healthcare image management workflows remains a challenge for many healthcare facilities -- ER patient snapshots, wound care photos, videos, and other visible light images are still being lost outside of EHRs and enterprise imaging systems.
All patient images must be managed for HIPAA compliance and to prevent the release of Protected Health Information (PHI). Novarad's mobile application, SnapView, helps solve this problem by allowing healthcare personnel to use supported iOS and Android devices to capture images without leaving behind any PHI.
In the wound center, every patient has a series of pictures. Storing those files securely is extremely important. Being able to track that access accelerates and improves the quality of the patient care Union provides. Dave Baumgartner, CIO, Union Hospital
Key benefits
Assure HIPAA compliance

Securely capture and store photos, videos, and documents

Locate and recall images easily