Precision guidance for precision healthcare.
Precision prevents errors, reduces operating room times, and improves the patient's experience and outcome. VisAR from Novarad® is an augmented reality surgical navigation system that increases surgical accuracy and confidence. Like a surgical GPS, VisAR enables physicians to find and reach their target destination more quickly - without the expense, footprint, and setup time of conventional navigation systems and robots.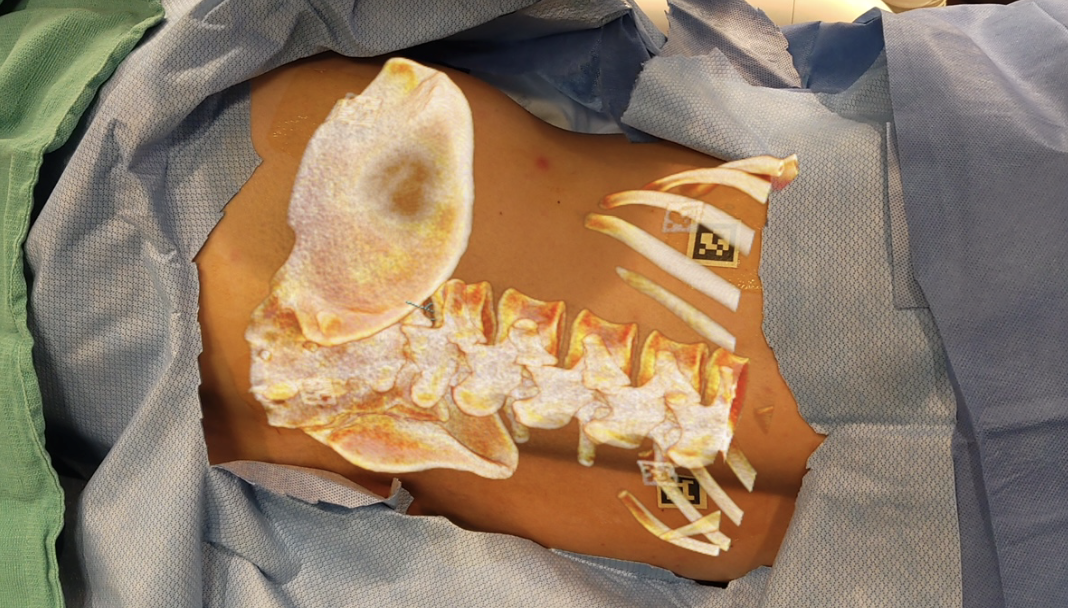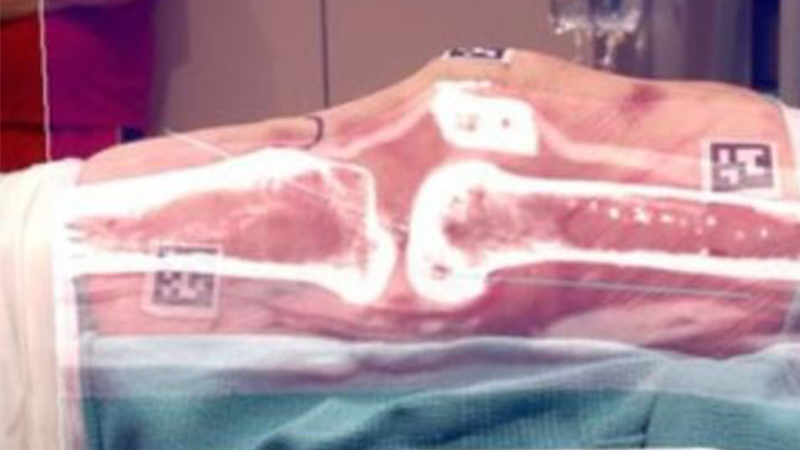 The HoloLens 2 system offers a larger field of vision, higher resolution, greater control and interaction with holograms, and more natural gestures.
Advanced rendering
VisAR renders 2D, 3D, and 4D digital images from any modality into a highly detailed hologram in real-time using the Novarad Graphics Engine. Using patented virtual tool technology with an integrated targeting system, the hologram is overlaid directly and accurately onto a patient's body.
Precise registration
Optical tags
A magic wand to anatomic landmarks
AI-driven OR Fluoro / X-ray registration
Free-hand
Continuous registration
Registration status indicator
The integrated virtual targeting system
Virtual tools, guide
Dynamic alignment
Virtual distance read-out
Reticle for precise alignment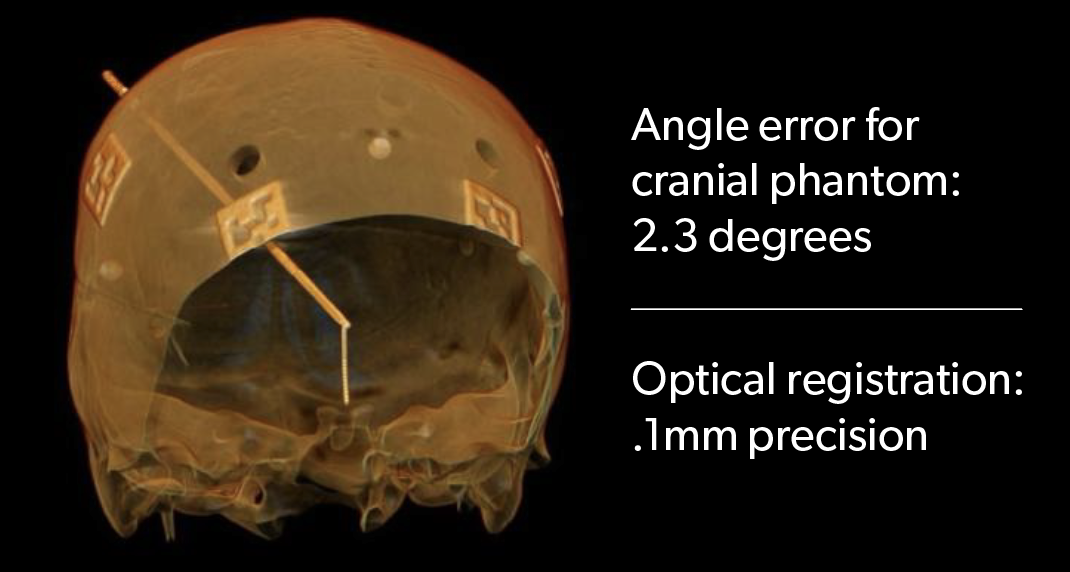 A minimal OR footprint
Using optical code alignment, cameras, and sensors, VisAR maps both the patient and the surrounding environment from above, to the side, behind or even underneath the patient using the hands-free, untethered headset of the Microsoft HoloLens 2. OR footprint is the surgeons head.
Advanced preoperative planning
Colorize target organs or annotate pathology to create semitransparent holograms of
targeted anatomy. This allows for precise planning and execution of the procedure,
even around difficult anatomy.
Place virtual incisions on the holographic images for precise surgery thus reducing time
under anesthesia and healing.
Navigate with knowledge. Mark virtual surgical guide entrance point, trajectory, and
location for endoscope or needle placement; extract a foreign body; or place a pedicle
screw. Procedures can be done both under open surgery and percutaneously.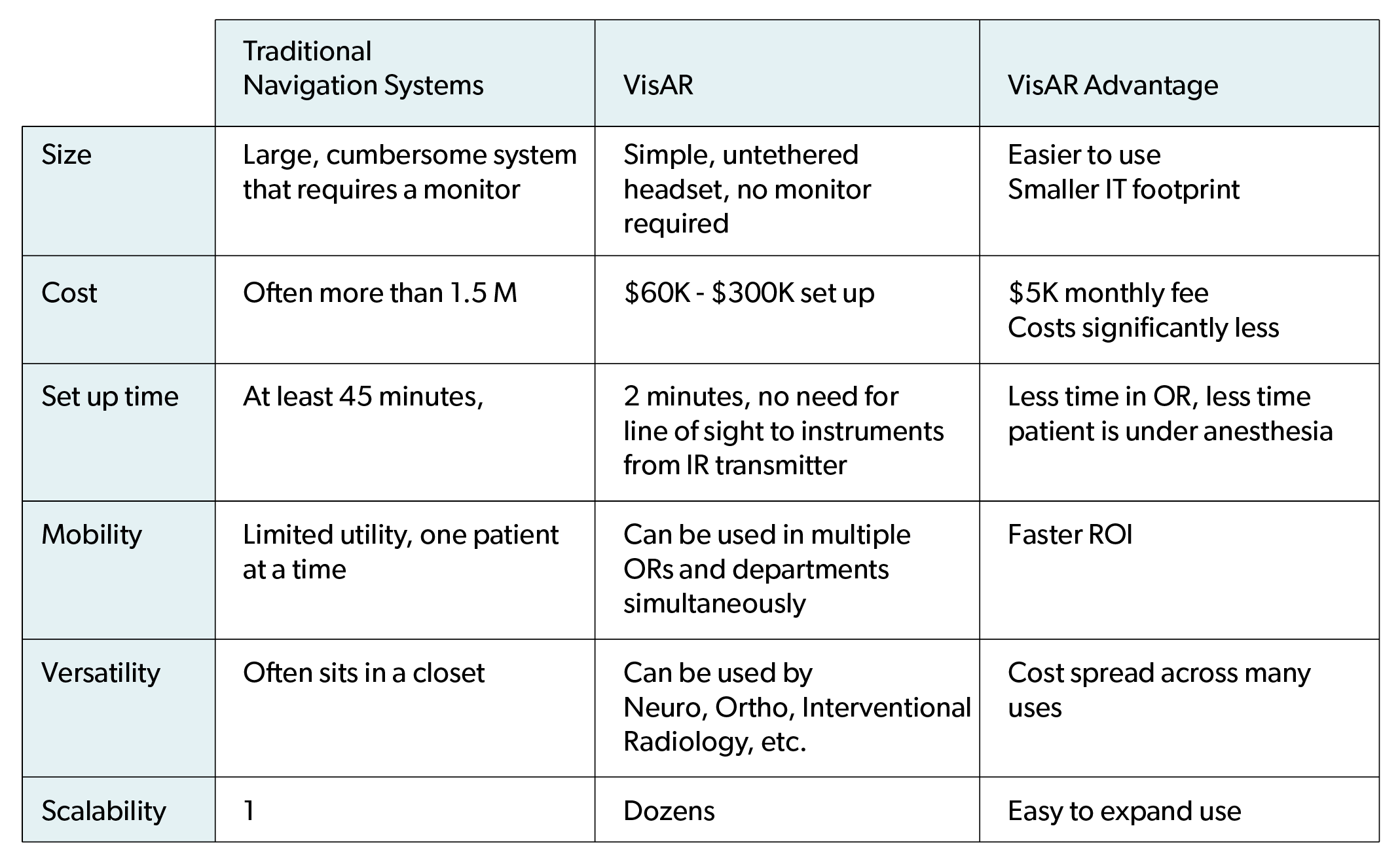 Predecessor technology (OpenSight®) was the first AR surgical system to receive FDA
clearance
Advanced 2D/3D/4D rendering without tethering
AI-enhanced advanced 3D image segmentation
Patented or patent-pending innovations, including:

Optical Tag Registration
Surface Shell Registration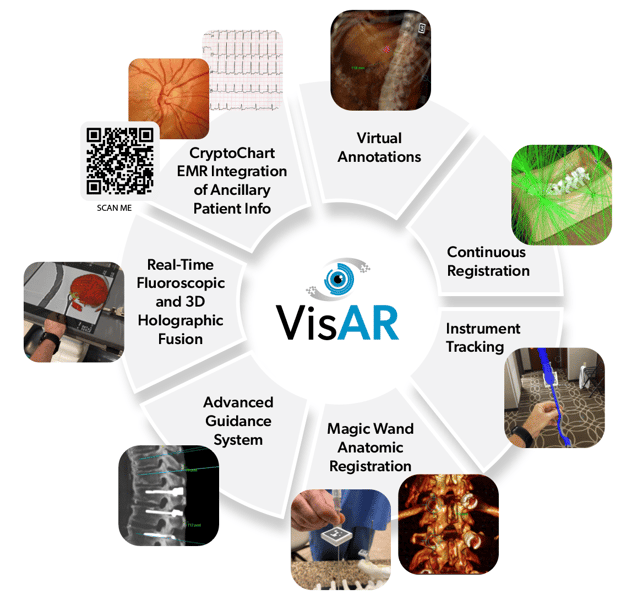 Virtual tools for incision, markers, needles, trocars, and more
Viewing AR images in a 3D volume over patient
Optical encoding of login, password, and image retrieval
Virtual Annotations
Anatomic labeling, pathologic markup

Dynamic virtual targeting system for tracking lesions and trocar placement
Enterprise Imaging, HIPAA logging, LDAP logins, data encryption, auto-routing
Spine Surgery
"Back surgery is a booming business. About 500,000 Americans undergo surgery each year for low back problems alone. According to the Agency for Healthcare Research and Quality (AHRQ), we spend more than $11 billion each year on operations to relieve back pain." (1)
A growing trend in this area is minimally invasive spine surgery (MISS) which has multiple advantages in comparison to traditional open spine surgery. The American Association of Neurological Surgeons lists the following patient benefits:
reduced risk of infection and postoperative pain;

faster recovery and less rehabilitation required;

diminished reliance on pain medications after surgery."
"better cosmetic results from smaller skin incisions (sometimes as small as several millimeters);

less blood loss from surgery;

reduced risk of muscle damage; since less or no cutting of the muscle is required;
MISS is typically performed through a small cylindrical portal that allows the physician direct access to the surgical site. The incisions are small and relatively easy to close (Figure 1).
Because there is not a long, deep incision that allows the surgeon a direct view of the surgical objective, MISS requires navigation for optimal results. Novarad has developed VisAR augmented reality for surgical guidance of both open and MISS, using a series of studies. Collectively, 7 cadavers have been instrumented with 124 pedicle screws (64 open spine, and 59 MISS) using VisAR exclusively for preoperative planning and surgical guidance of screw insertion.
This work demonstrated that VisAR is highly accurate for both types of surgeries. We used the Gertzbein-Robbins grading system (3) for pedicle screw placement which indicated that 96% of all screws were inserted correctly. In addition, both the angle of error and the distance error were determined (Figure 2). A summary of this information is presented in Table 1.
---
1 https://consumer.healthday.com/encyclopedia/back-care-6/backache-news-53/back-surgery-645795.html
2 https://www.aans.org/en/Patients/Neurosurgical-Conditions-and-Treatments/Minimally-Invasive-Spine-Surgery
3 Gertzbein SD, Robbins SE. Accuracy of pedicualar screw placement in vivo. Spine. 1990;15(1):11-14.