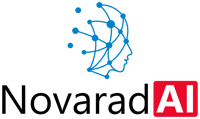 COVID-19 Artificial Intelligence (AI) Diagnostic Assistant
Quick Start Guide
Now that I installed the Assistant, what's next?
Once the COVID Assistant is installed correctly, a Client Details page appears on the screen and can be printed. This page provides all the information necessary to set up a DICOM destination in a modality or a DICOM route destination in a PACS system.

A PACS Admin or IT staff should be able to easily set up a route rule or destination. You will NEED to be able to route studies to the Diagnostic Assistant either from your PACS or directly from the modality.
There is a sample COVID case available for download from the Novarad website for sites to use to test.
Once all this is done simply route a test study and you should receive a printed QR code within 15-20 seconds.
The report is accessed by scanning the QR code with a mobile phone or barcode scanner on a PC. Once the study has finished routing to the cloud and the AI is completed it will be able to provide a report. If it has not completed the routing it will notify you.
That's it! You are live and ready to go. Please note that if you want the reports added to your PACS you will need to print them from the browser and scan them into the PACS.

Funding for this solution was provided in part by Intel's Pandemic Response Technology Initiative. Intel is committed to accelerating access to technology that can combat the current pandemic and enable scientific discovery that better prepares our world for future crises. For more information about healthcare solutions from Intel, visit intel.com/healthcare. For more information about Intel's COVID-19 response, visit intel.com/COVID-19.